What is Furnace Cleaning?
Your Furnace Cleaning Experience, in Pictures.
It All Starts with Great People.
Our professional, friendly staff are highly trained and experienced.
Truck Mounted Cleaning
High power air and vacuum, directly from the truck.
Details Matter
Taking care to protect your home.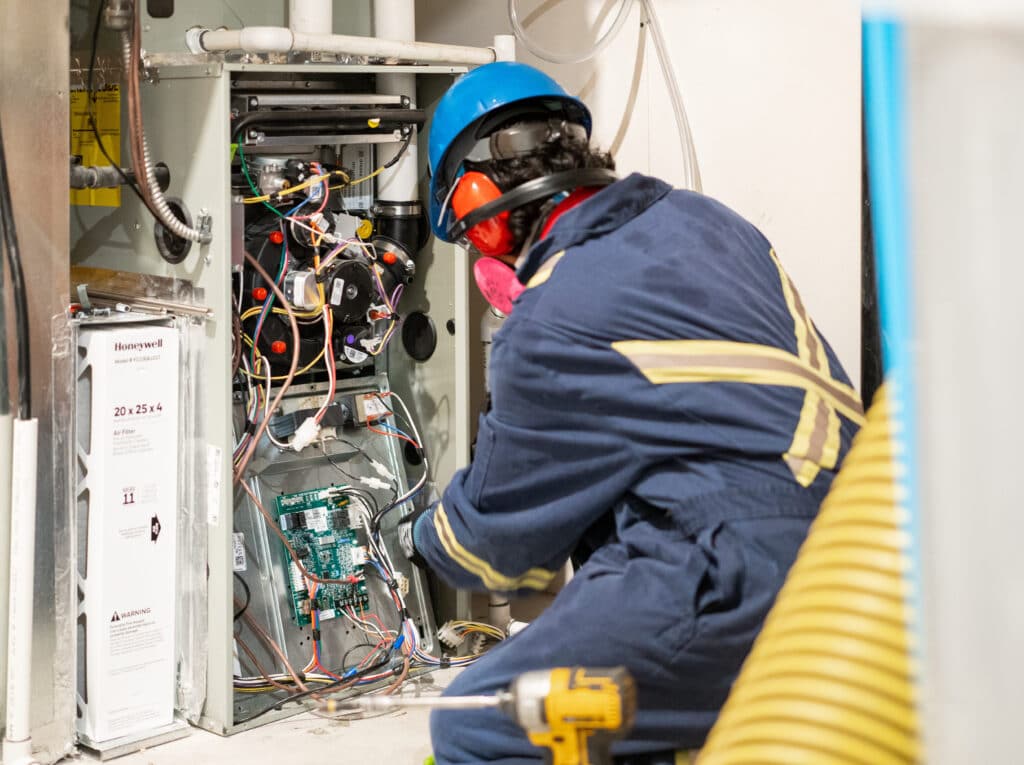 Furnace Cleaning – Part 1
There's a lot of wires there, don't want an amateur messing with that!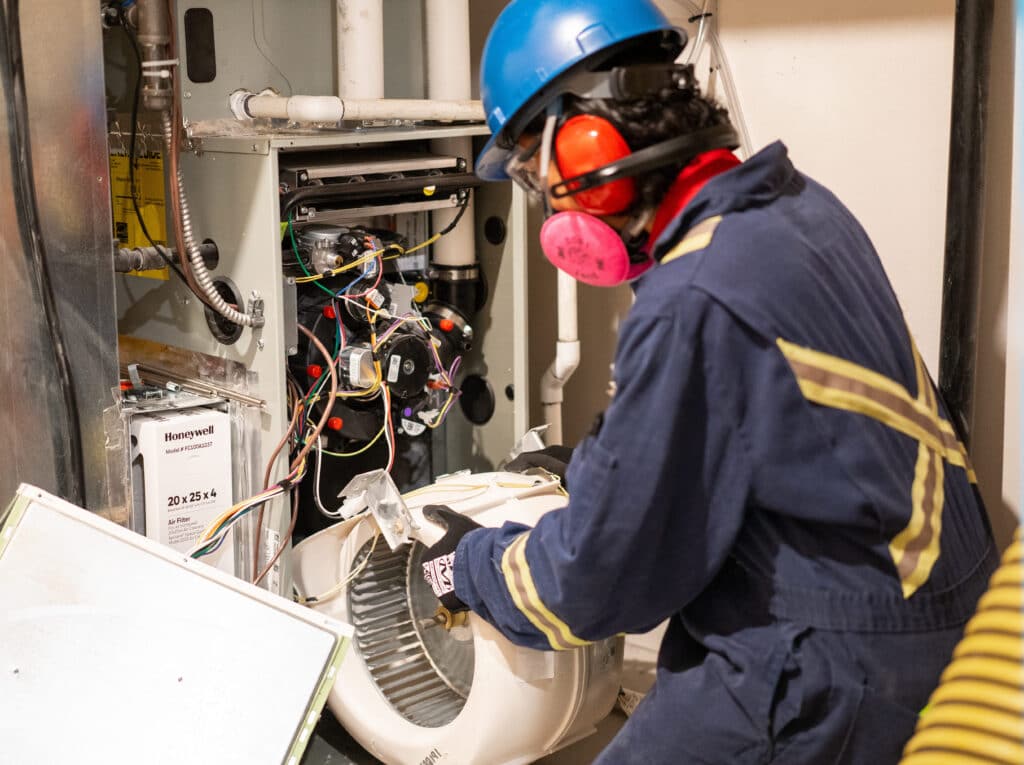 Furnace Cleaning – Part 2
This is your furnace fan, also known as a blower. We take it out and clean it.
Filters
We will check your filter, and replace (standard sizes) with a new filter. Read More.
Access
Creating an access point to connect the giant vacuum hose.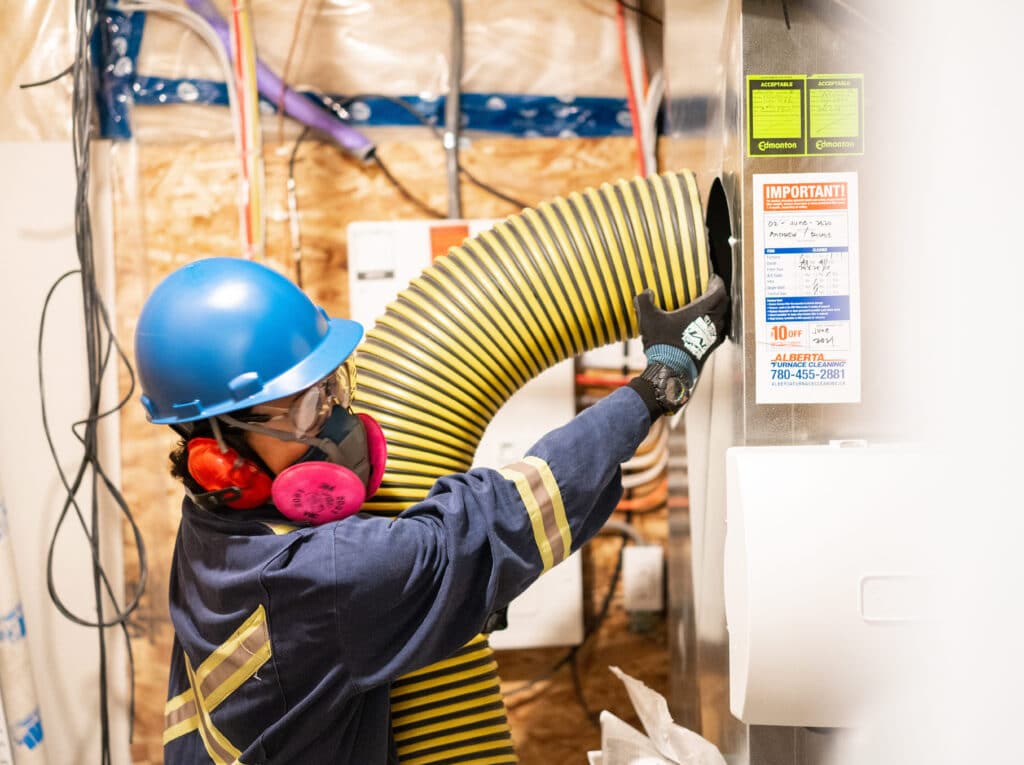 The Big Vacuum
One technician uses the little airline in the vents while the other one uses the vacuum.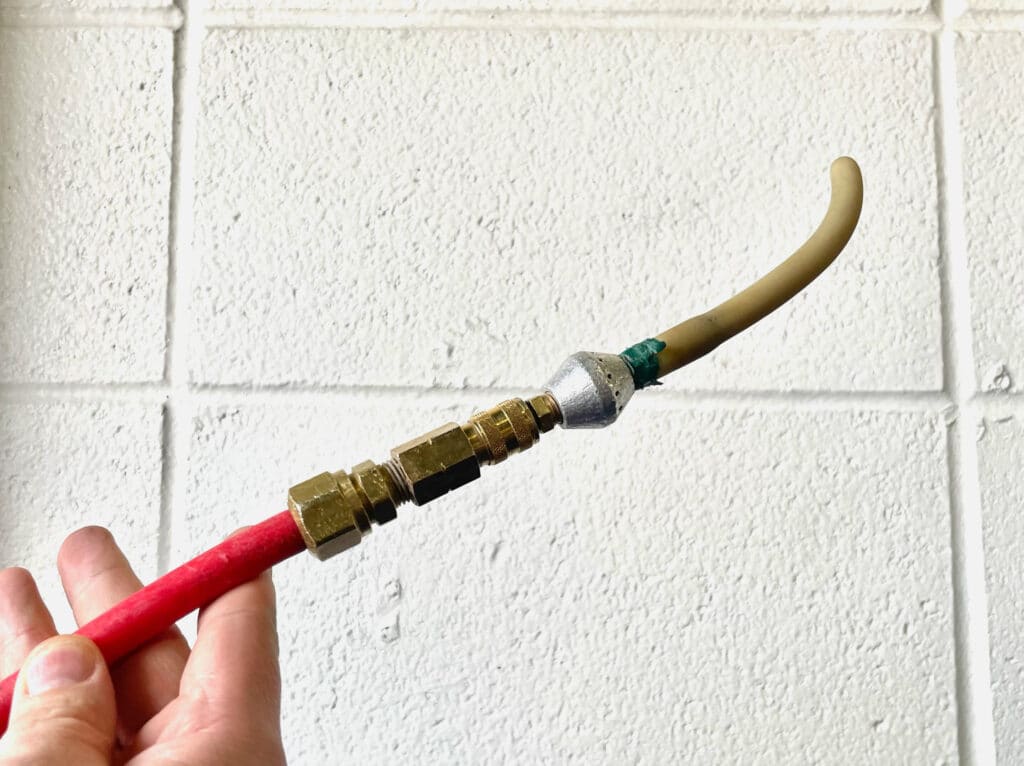 The RotoWhip
Small but mighty – provides direct contact cleaning.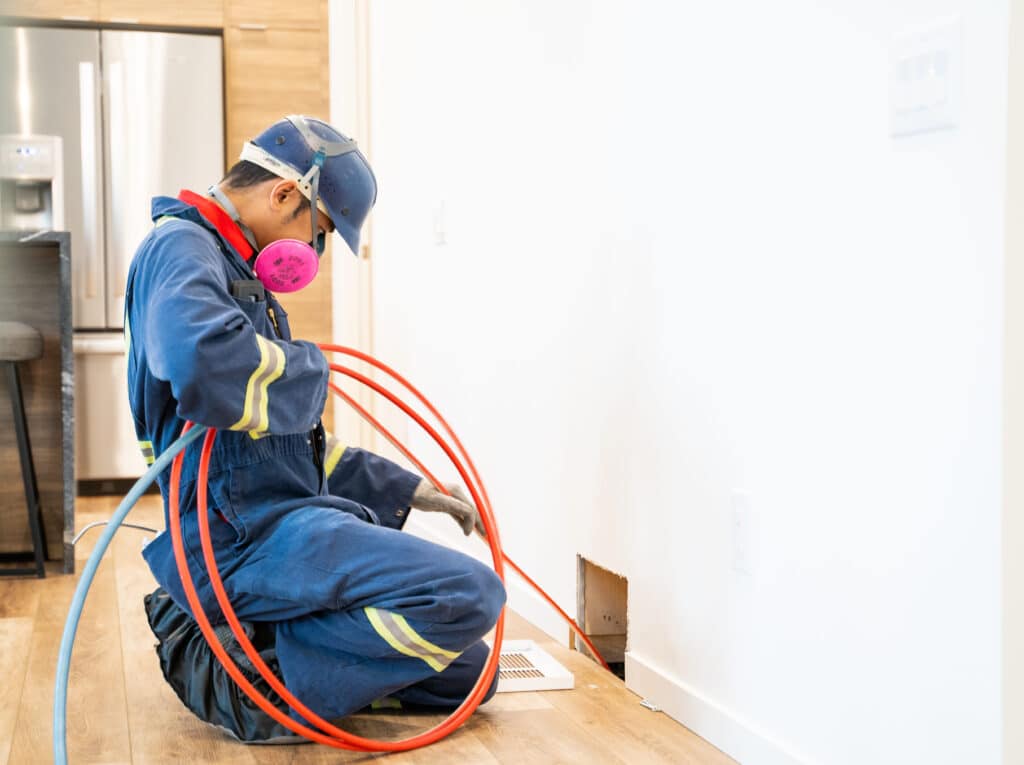 Cold Air Return Cleaning
We need to find all of these, there's one in almost every room.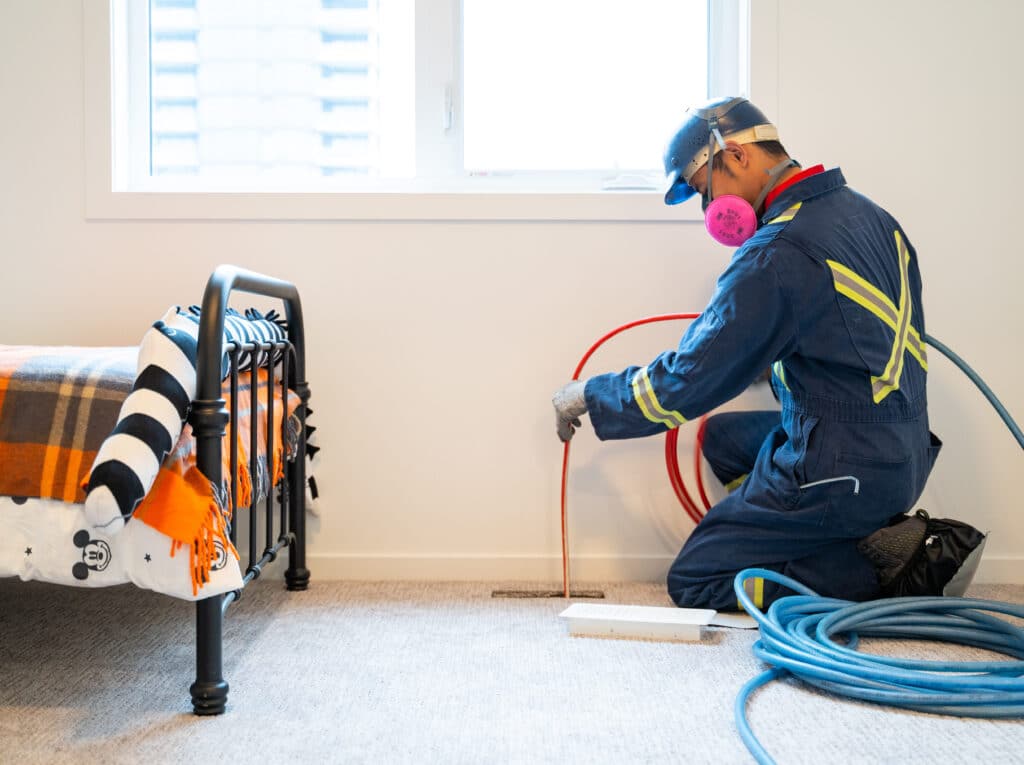 Warm Air Vent Cleaning
Where ever there's one of these, we need to do this.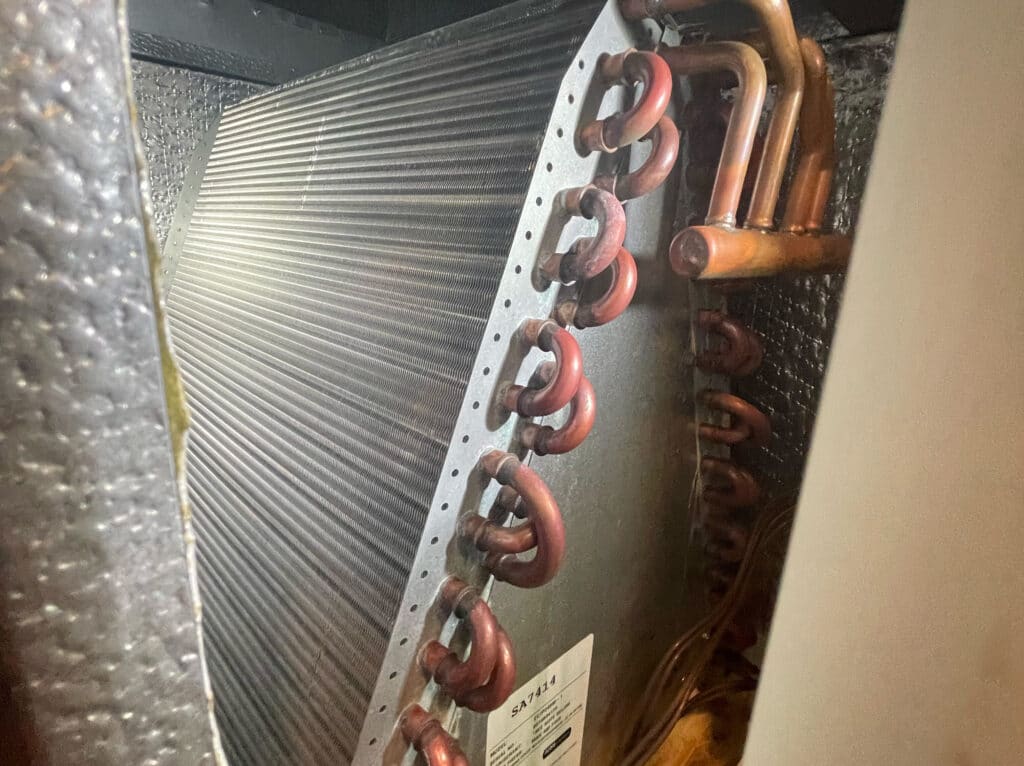 Air Conditioning Coil
If you have air conditioning, this is what the coil inside your ductwork looks like. Read More.
HRV
Lots of newer homes have Heating Recovery Ventilators, and they also have filters. Read More.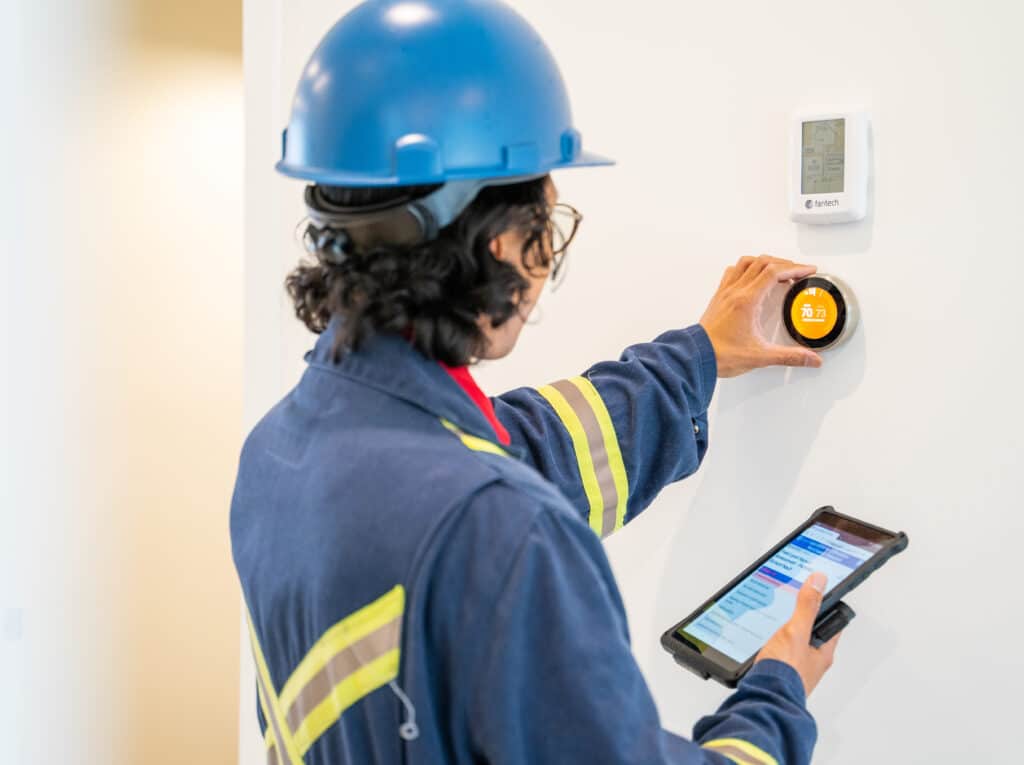 Post Cleaning Checks
Making sure everything is working properly before we leave.
Things That Can Go Wrong
We admit it. Sometimes things aren't quite as simple as that first slideshow made it look.
Your Furnace Cleaning Experience, in a Video.
What Can You Expect With Our Furnace Cleaning Services?
Happiness Guaranteed. It's not clean til' you say it's clean…guaranteed.

Multi-Point System Check™. Thorough pre-check of system operation.

We Treat Your Home With Care. Drop sheets, moving blankets, corner guards and register covers are used as necessary.

Full System Clean, Not a Bypass Duct Cleaning. Furnace blower is removed and cleaned.

Dual Zone Cleaning. System is cleaned in "zones" using the Roto-Whip™ safe cleaning method.

Thorough Duct Cleaning. 150-200 PSI Roto-Whip is used in hot air vents and cold air returns for a thorough, full-system clean. Ceiling vents (mostly in basements) are carefully airwashed using a wand, to ensure that they do not become damaged or disconnected.

Professional Finishing. Sealed access panels are created for convenient future access. The outside of your furnace is wiped down.

Final Touches. Furnace is tested for ignition and fan operation.
Before The Cleaning Begins.
After covering their shoes with a clean, new set of boot covers your Alberta Furnace Cleaning technician will complete a thorough inspection of your system before the cleaning begins. Every home is unique and it is very important that your technician examine your situation so they can proceed with the safest and best approach to your individual furnace and air duct cleaning requirements. Once the inspection is complete your technician will carefully explain the work that will be performed before it is done.
Roto-Whip™ SystemSafe Cleaning
At Alberta Furnace Cleaning we use the Roto-Whip™ SystemSafe furnace cleaning and air duct cleaning method. This special method delivers the direct surface contact cleaning benefits of old-style brush cleaning, combined with the safety of modern pneumatic cleaning systems. Unlike conventional air-wand or brush cleaning, the Roto-Whip™ system penetrates deep into your duct system without the risk of damaging internal components or closing pre-set dampers and adversely affecting system airflow. Alberta Furnace Cleaning offers only one method of furnace cleaning to our customers because we do not believe in providing a service that is lower than our highest standards. Our only method is our best method, no extra charge!